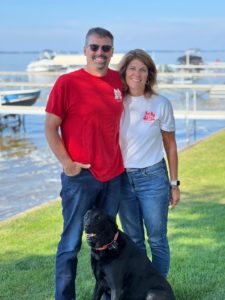 I can't believe it has been ten years already since we moved from Grand Rapids and bought the Crest Resort. What a great experience it has been for us. We have spent the last ten years remodeling, adding a cabin and improving the resort to make it a great experience for all our guest. Cary and I are now empty nesters. Zachary 25, graduated from Central Michigan University, got engaged and is living in Traverse City. Madelyn 22, graduated from Northwood University, is back home living in Roscommon and working in the accounting department at Lear. We are so proud of them and want to thank all our guest who also helped guide them to become successful adults.
It continues to be our goal that all our guest will have an opportunity to enjoy the great outdoors and spend time with family and friends.
Our mission continues: families that stay at the resort will reconnect with each other while taking a ride around the lake, go fishing together, or just sit around the bonfire discussing the experiences they had that day. We are also looking forward to family reunions, business retreats, youth and scout meetings. With the resort being open all year round we hope you come and spend a weekend snowmobiling, ice fishing, skiing, or just enjoying the great winter months in Houghton Lake.